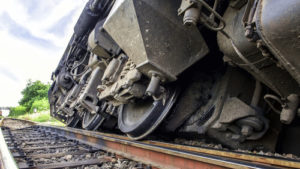 More and more people are taking to the railways and enjoying a leisure ride to their destination. Train rides have been a cost-efficient way to commute since their conception and continue to transport millions of Americans today. Many rather travel on trains as they believe they are safer than planes or cars, but trains come with their own set of risks. Train accidents are a common occurrence and have the possibility of becoming fatal depending on many factors including speed and velocity. The top causes of train accidents include negligence, derailments, collisions, sabotage, and mechanical failure. If you are injured in a train accident as a result of any of these conditions, it is vital that you seek legal representation.
Train Accident Lawyers
A train accident attorney is essential to receiving compensation for the injuries you may have suffered as a result of a train accident. You may have been forced to pay steep medical bills and miss work as you recover from your injuries. A local train accident attorney can help you seek maximum compensation for your losses.
Railroad Accident Causes
Railroad accidents can come as a result of many various circumstances. They can be the most dangerous for passengers as they are likely not to be restrained by a seatbelt and are free to move around the train. Trains also travel at high speeds which can cause the slightest malfunction to be life-threatening. A few of the most common train accidents include:
Railroad Crossings – Trains travel at fast speeds and collide with cars, buses, trucks and pedestrians because they are not able to stop in time.

Train Derailments – Often due to faulty equipment or bad tracks that require repair.

Mechanical Failure – Often due to poor train maintenance.

Equipment Failure – Due to improper equipment handling by the crew.

Employee Negligence – Due to several reasons ranging from neglect to intoxication.
Were you or a family member involved in a train accident? A train accident attorney can provide you with the legal representation needed to successfully recover losses. After Personal Injury has the resources to get you in contact with a local train accident attorney. They will analyze the facts of the case and help you seek maximum compensation for your losses. Contact us today for a free case evaluation.