How To React To A Movie Theater Accidents
Thousands of people are hurt at movie theaters every year. Sometimes the injuries are nothing more than a small bruise. But, other times the injuries require surgery and months of recovery and rehabilitation. If you have been hurt because of the movie theater's negligence, you can be compensated for your injuries and your pain and suffering.
Types and Causes of Movie Theater Accidents
Most movie theater accidents are caused by human error. When someone else's mistake winds up injuring you, that other person of their employer is responsible for compensating you.
Here are some common causes of movie theater accidents:
Failure to clean up a food or drink spill
Failure to follow safety procedures
Leaving cords in aisle ways or hallways
Poorly maintained walkways
Poor lighting
Faulty equipment
Failure to repair broken seats
Most movie theater accidents happen when an employee either doesn't do their job properly, the employee was never trained correctly, or the movie theater owner took safety shortcuts on routine maintenance.
Examples of the types of accidents this kind of negligence causes are:
Slips and falls because of slick floors or unstable walkways. This can include situations where employees failed to put up a wet floor sign
Tripping on a cord to a light or to some cleaning equipment that is left across the floor of a hallway
Tripping on uneven or warped flooring or carpet because of dim lights on the theater or hallways
Having a movie theater seat collapse underneath you
Types of Injuries in Movie Theater Accidents
Something as simple as a slip and fall can leave an unsuspecting movie theater patron in serious pain. Sometimes, one or more surgeries may be needed to repair the damage done from the fall.
Some typical injuries in movie theater accidents include:
Torn, twisted, or strained ligaments and tendons
Fractured bones
Neck and back injuries
Lacerations and contusions
Strained and sprained muscles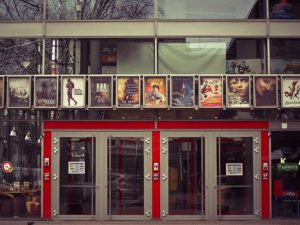 Often people are embarrassed after getting hurt at a movie theater. However, it is important that you get proper medical treatment for your injuries. Even if you do not need to go straight to the emergency room, you should still follow up with your doctor within two or three days of a bad fall. You may not notice your injury at first, but after a few days you may have some stiffness or pain that could be a sign of a more serious injury.
The sooner you go to your doctor the sooner you can be back on the road to full health. Visiting the doctor and following all of the treatment instructions you are given also helps you if you decide to make a claim for your injuries.
How Does a Claim Work?
All states have strict time limits on when you can bring a claim for your injuries. This is called a statute of limitations. If you try and make a claim after this deadline, you won't get paid. If you try and bring a lawsuit after the statute of limitations your case will get thrown out of court.
When you are ready to make a claim, usually the first step is to make a demand with the movie theater owner. This is done in written form. The company will forward the demand to their insurance company. The insurance company will then look at the claim and make a decision.
Usually, the insurance company will either deny the claim or make an offer for far less than the amount requested. If a settlement cannot be reached, the only options are to give in or to file a lawsuit and continue to pursue the claim.
Why Do You Need a Lawyer for Movie Theater Accident?
Many people worry that hiring a lawyer will be too expensive or will send the wrong message. Almost all personal injury lawyers work on a contingency fee basis. This means they do not collect attorney fees unless you get paid. In the majority of personal injury cases a person will get more compensation when represented by a lawyer, even after attorney fees, than they would on their own.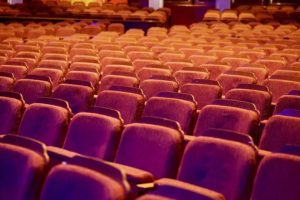 You likely have never had a serious injury claim before. If you have you have only dealt with one or two. The insurance company you are dealing with has handled hundreds or even thousands of claims. Who do you think has the advantage?
Even if you hire a lawyer, your case is unlikely to go all the way to trial. When you hire a lawyer you are sending the message that your case is important to you, and that it is strong enough for a lawyer to take it on a contingency basis.
Not every accident or injury requires a lawyer. But, the more serious your injuries, the harder it may be to get the full compensation you deserve.
Let us help connect you with knowledgeable personal injury attorney with experience in these kinds of cases. They can evaluate your case and let you know how to best protect your rights.