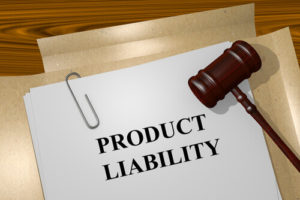 When consumers purchase a product, they expect it to be safe to use, but that is not always the case. Sometimes people are severely injured or even killed by a product that is dangerously defective. When this happens, the injured party has the legal freedom to pursue a product liability claim.
Strict Liability
The afflicted can pursue various causes of action against the manufacturer of a product; one of those is product liability. If a consumer can prove that a product purchased in the stream of commerce and was the direct cause of his or her injury while being used in an intended manner, the manufacturer might be held strictly liable under the law of product liability. When such conditions are present, even exercising the highest degree of care in manufacturing the product becomes irrelevant.
Types of Defects
Products can be dangerously defective and give rise to strict liability claims in multiple ways. The law recognizes:
Design defects from the drawing board and blueprints

Manufacturing defects during the production process

Warning errors due to inadequate instructions
With design flaws, all of the products in a line are dangerously defective. If a manufacturing defect is found, only a few of the products in the line were affected during the production process. A failure to warn might involve an inherently dangerous condition of the product that users should know about but were not alerted.
Who Can Be Held Liable?
Under the law of product liability, a manufacturer, distributor, supplier, and even a retailer can be held liable for injury to or the death of a consumer. The law strictly states that the product is required to be purchased in the stream of commerce to pursue a product liability case. An item bought at a garage sale or second-hand store doesn't fall under the purview of product liability law.
Damages
When a person can prove that a dangerously defective product caused an injury, he or she might be eligible for damages. Those damages consist of:
Past and future medical bills

Past and future lost earnings

Any permanent disfigurement

Any permanent disability

Pain and suffering

Loss of enjoyment of life

Funeral and burial costs in the event of a death
Product liability cases are common. After Personal Injury can pair you with a product liability attorney in your area who can review the facts of the case and pursue the necessary legal steps in seeking compensation for your injuries. Contact us today for a free case evaluation.