How To React To Bowling Alley Accidents
Bowling can be a fun time for the entire family. However, because of careless employees and bowling alley owners, every year people are injured in bowling alley accidents. Under the law, you have a right to be paid for the injuries caused by someone else's negligence. When you or a loved one gets hurt at a bowling alley, you need to know how to file a claim and how to make sure you are getting paid fairly.

Neither the bowling alley nor the bowling alley's insurance company represent you or have your interest at heart. You deserve to have someone standing by your side, fighting for your rights.
Types of Bowling Alley Accidents
Not all bowling injuries are because of someone else's negligence. If you are out of shape or are not paying attention and injure yourself, you are not likely to get any compensation for your injury. But, if it was someone else's mistake that injured you, you may have the right to file a legal claim for damages.
Common types of bowling alley accidents include:
Bowling alleys have a legal duty to make their place of business safe and in good repair. This includes a responsibility to warn customers of any dangerous conditions and to make an effort to clean up hazards as quickly as possible.
This duty also extends to providing adequate security and serving alcohol responsibly.
Types of Injuries in Bowling Alley Accidents
Most of the injuries at a bowling alley are the result of slip, trip, and fall accidents. But, even a simple trip and fall can result in serious injuries that take months to recover from, and can even lead to one or more surgical procedures.
Common types of injuries in bowling alley accidents include:
Fractured bones
Sprained ankles
Torn or ripped ligaments, tendons, muscles
Traumatic brain injuries
Eye injuries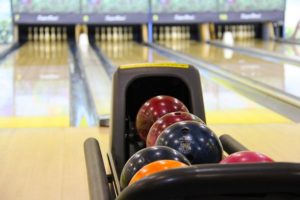 Your first priority after a bowling alley accident is to get healthy. Many injuries will not require a trip to the ER. However, you should have your injuries evaluated by a medical professional within 24 to 72 hours after an accident. This will help ensure you recover as quickly and completely as possible.
Having your injury documented by a medical professional may also help you with your claims process.
Elements of a Bowling Alley Accident Claim
Before you can recover compensation for your injuries you will need to make a claim. Most bowling alleys have premises liability insurance. You will need to file a claim with their insurance company. Even if you never go to court, you will still need to prove all the legal elements of a claim before the bowling insurance company is willing to pay out anything.
The standard elements you will need to prove are:
The bowling alley owed you a duty
The bowling alley breached its duty
You were injured
You suffered damages
The element of owing you a duty simply means that you were authorized to be at the bowling alley.
As a customer, the bowling alley owes you a duty. If you injured yourself breaking into the bowling alley, the business most likely does not owe you a duty.
A breach of duty means that the bowling alley, or its employees, either did something that put you at risk, or it failed to do something that would have prevented the injury.
For example, a bowling alley breaches its duty when it knows tile leaks onto the floor, but makes no effort to fix the tile or to warn customers of the wet surface.
Proving Your Claim
It is not enough to just state all the elements of a claim. You will need to prove your case to the insurance company. If the insurance company is not convinced that you would win at court, or that you would get the amount of money you are asking for, they are unlikely to settle.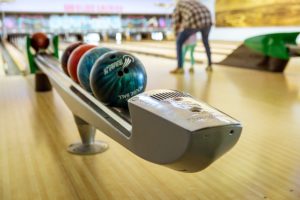 Proving your claim involves heavy documentation of every element. This can include medical bills and reports, receipts for prescriptions, and statements from witnesses who saw the accident.
If a settlement is not reached early in the case, a lawsuit may be filed. Just because a lawsuit is filed does not mean the case will go all the way to trial.
But, a lawsuit can put more pressure on an insurance company to settle and it also can give you and your lawyer extra tools to collect evidence to prove your claim.
If you have been injured in a bowling alley accident, make sure your rights are protected.
We can help connect you with a personal injury lawyer in your area. Make sure you get the compensation you are legally entitled to.
The lawyers we work with have experience in premises liability cases. When you call us we will help you find the right lawyer for your case.