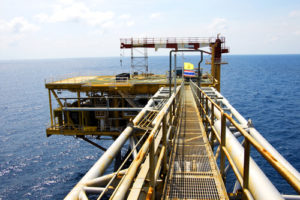 Working on offshore platforms, spars, tankers, crew boats, and jack-up rigs is tough and dangerous. If you have been hurt in an offshore construction accident you may have a right to monetary damages. But, understanding when and how to file a claim can be overwhelming. You need an experienced and knowledgeable maritime injury lawyer to help you through the process. If you wait too long to follow through on your claim you could miss your chance to recover anything.
Types and Causes of Offshore Construction Accidents
Because offshore construction workers are often operating in difficult conditions with heavy equipment and sometimes dangerous chemicals, they are also much more likely to be hurt or killed on the job. However, that does not mean offshore construction accidents should be accepted as a fact of life. Many accidents are caused by the negligence of companies and co-workers.
Some common causes of offshore construction accidents includes:
Defective equipment
Defective materials
Poorly maintained equipment
Fatigued equipment operators
Impaired employees or contractors
Failure to create a safe work environment
Encouraging a climate of "cutting corners"
Lack of a safety plan
Inadequate training
Incompetence
The root of each of these causes is negligence. If you are injured on the job you have a right to some compensation for your injuries. If you were injured because of the negligence of someone else, you may have an even larger claim to monetary damages.
Common Injuries
Offshore construction accident injuries are often catastrophic. If you have been injured your first responsibility is to get to safety and to get medical help. Often injuries in offshore work are made worse because of the delays in getting access to proper medical care.
Even if your injuries do not require immediate medical attention, it is still important to get a medical exam. You may be suffering from serious injuries even though you are not yet showing symptoms. Some internal injuries and traumatic brain injuries can take days or weeks to show symptoms. The sooner you are seen by a doctor the sooner you can be on the road back to health.
Some common types of injuries in offshore construction accidents are:
Traumatic brain injuries
Crush injuries
Amputations
Bone fractures
Back and neck injuries
Strains and sprains
Chemical burns
Eye injuries
Partial disability
Permanent disability
Paralysis
Death
Who is Responsible?
One of the difficulties in offshore construction accidents is determining who is responsible. The accident may be the fault of your employer, a co-worker, a contractor, equipment manufacturer, or a combination of several different people and companies. Finding out who is to blame is particularly important in offshore construction accidents because of the different ways worker's compensation, federal law, and state law all come together.
It usually requires a substantial investigation by an offshore construction accident expert before any conclusions can be made as to the cause of the accident. Your employer often has little incentive to conduct any investigation. You will need the help of a maritime lawyer to protect your rights and make sure your claim is honored.
Depending on what law governs your situation and who is to blame for the accident will determine what type of compensation you are entitled to. If you claim is filed with the wrong party, you may lose your chance to collect any damages.
What You Need to Know About Making a Claim
Strict timelines govern the claims process for offshore construction accident cases. The main federal laws that cover most offshore accidents are:
Outer Continental Shelf Lands Act (OCSLA)
Death on the High Seas Act (DOHSA)
Each law has different requirements about who can be sued, what damages you can recover, how your claim must be filed, and how long you have to make a claim. In some instances a worker may even be covered by worker's compensation, which may give faster access to disability payments, but can prohibit you from collecting pain and suffering damages.
In most circumstance you will need to prove that an accident happened at work, who was at fault, that your injuries were caused by the accident, what your damages are.
You work too hard and your family counts on you too much for you not to get the compensation you are legally entitled to. We understand that finding a skilled maritime injury lawyer can be difficult. We want to help connect you with the right lawyer for you and your case. Contact us today and we can help put you in contact with a maritime injury lawyer to review your case. Having the right lawyer on your side makes all the difference in offshore construction accident cases.
The clock is ticking. Contact After Personal Injury today to connect with an attorney before your run out of time on your claim.