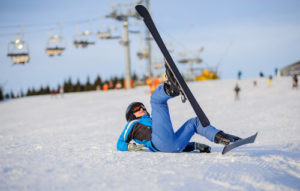 Just over 11 million people enjoyed skiing or snowboarding in the United States during the 2016 ski season according to data collected by ski resorts nationwide. Of this number, over 50 million individual visits were made to the slopes according to the National Ski Areas Association. With the significant number of people participating in skiing and snowboarding, a notable amount of injuries and deaths occur each year by individuals involved in these sports.
Skiing and Snowboarding Injuries and Fatalities
There were 45 catastrophic injuries during the season ending in 2016. A catastrophic injury is one that is life-threatening and likely results in some sort of permanent disability. There were hundreds of other individuals that suffered less serious injuries during the same time period.
Thirty-eight individuals were killed in skiing or snowboarding incidents in the season that ended in 2016. A large number of these fatalities were attributed to some type of negligence caused by another party.
Common Causes of Skiing and Snowboarding Accidents
Each year, skiers and snowboarders are injured in a number of different ways. This includes a range of accidents caused by the negligence of another party. The most common types of skiing and snowboarding accidents are:
Collisions between other skiers or snowboarders

Calls

Collisions with objects like as trees, fences, barriers, or signs

Chair lift incidents

Equipment failure (often times caused by a defect)

Inadequate training
Common Types of Skiing or Snowboarding Injuries
Injuries resulting from skiing or snowboarding accidents run the gambit. These include everything from relatively mild injuries like wrist sprains  to severe, life-altering ones like head and spinal trauma. Broken bones are common types of skiing and snowboarding injuries as well.
Negligence and Skiing or Snowboarding Injuries
Negligence on the slopes comes in many forms. A common situation when a skier or snowboarder is injured because of another person's negligence can come as a result of negligence.
A recurring example of negligence involves equipment malfunction arising from a manufacturer's defect. This can include a defect in the actual manufacturing process, or in in the design of a piece of equipment. Another fairly common example of negligence involves a ski or snowboard instructor that takes a skier or snowboarder into an area that is beyond the student's capabilities.
If you were injured in a ski or snowboarding accident accident at a ski resort, you may be able to recover damages. After Personal Injury has the resources to get you in touch with a local ski resort accident attorney. They will be able to analyze the facts of the case and help you seek maximum compensation for your injuries. Call us today at (888) 854-8989 for a free case evaluation.