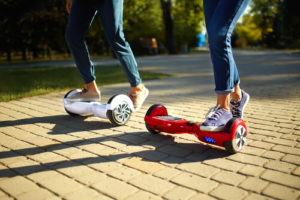 Hoverboards bursted onto the scene in recent years, yielding high praise from children to their parents. The hoverboard is a two-wheeled, self-balancing device that is propelled in the direction in which you shift your body weight. This device is unlike any other on the market, as segways were equipped with a handlebar for stabilization. A hoverboard on the other hand only has somewhere to place your feet, leaving the rest up to you.
This innovative technology, like many others, is not as foolproof as many may believe. Manufacturer malfunctions have led to individuals suffering a wide array of injuries. Many of these injuries require medical attention which can result in a surprisingly high medical bill. As if having to miss work wasn't enough, you must now come up with the necessary funds to pay for your hoverboard accident.
A hoverboard accident attorney can help relieve you of this financial burden by taking the necessary legal action to compensate you for your injuries.
Causes of Hoverboard Accidents
Like with any other new technology, there are a few shortcomings. The initial craze for hoverboards was incredibly high but the price point matched the level of excitement as well. In an effort to make hoverboards available to those who would rather not pay $500 plus, companies surfaced promoting hoverboards priced around $300. These were most popular and encouraged the widespread popularity of hoverboards.
Many of the consumers who purchased hoverboards experienced:
Lights flashing excessively
Catching fire

One side of hoverboard freezing
All of the aforementioned instances have occurred either while an individual was riding the device, as it was charging, or in storage.
If a hoverboard freezes as you are operating it, there is a high chance that you'll be thrown from the device. Whether you were riding it outside or inside, there is a possibility that you can break a bone, recieve a laceration, or even a concussion if you hit your head. In the instance your hoverboard catches fire while charging or in storage, a number of your personal items can be damaged.
Hoverboard accidents are a common occurrence and should be approached with the urgency of any other personal injury case.
After Personal Injury can pair you with a hoverboard accident attorney in your area that can review the facts of the case and pursue the necessary legal steps in seeking compensation for your injuries. Contact us today for a free case evaluation.